Origins of a stocking fetish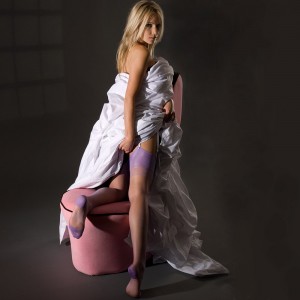 Clothing-related fetishes are linked to fashions that are seen between the ages of about 5 and 15, when male sexuality is developing. The stockings and suspender/garter belt fetish primarily has its origins in the 1950s and 60s. Previously, directoire knickers, bloomers and corsets were 'the thing'. The shapely ankle, today a phrase that seems faintly ridiculous, was a strong fetish with 19th century origins. Tights and pantyhose are an increasingly common fetish, as can be seen from the content of 'leg' magazines and the suppliers of photo sets. This is entirely predictable. Claims that stockings are 'sexier' than tights are incorrect. No piece of clothing, of itself, is sexy. Most sexologists/psychologists claim that women (natural women, not TVs and transsexuals etc) do not have fetishes, but this belief is entirely incorrect. A fetish generally has to have some 'unusual' aspect to it, so men's socks won't turn many women on!
The year was 1967. I had an evening paper round in Southampton where I live. I was 16 and just about to leave school at the end of the summer. On my evening paper round a girl aged about 18 would cycle past me every evening wearing extremely short flimsy summer dresses. The mini skirt/dress was the height of fashion and a lot of girls had already started wearing tights. Not this girl however, she would cycle past me every evening for the duration of the summer with her skirt above her nylon tan stocking tops and white suspenders. Later that year I started work at what was then Southern Gas only to find that she worked there also. Sadly by then she was wearing tights. My fetish began at a much earlier age but this is my best recollection due to the fact that it lasted for months at the same time of 5.45 each weekday.
It was 1981 and I was studying in the University Research Library at UCLA, where I was finishing up my freshman year. I was totally engrossed in whatever I was reading at the time (which, considering my grades that year, is still pretty hard to believe!), but at a certain point, I happened to notice that a striking young woman had sat down across from me.
I think what initially caught my eye was a slight wrinkling or bagging of her (I thought) pantyhose around her ankles. I found the sight both odd and compelling… so my eyes continued upward. She was wearing a black skirt (about down to her calf) with a slit in the side, fairly high up her thigh. At first, that didn't mean anything, but when she slightly shifted her position in her chair, it meant EVERYTHING!
For when she shifted, the slit opened up to reveal a lovely, well-shaped thigh, a beautiful black garter strap and the welt of her stocking. Immediately, I lost ALL interest in whatever it was I had been reading and focused all of my attention on this beautiful woman. Not having EVER seen stockings and garters outside the pages of Playboy, I couldn't believe this woman was showing me hers… she must've noticed my attention (or my blushing face…), because she then crossed her legs VERY slowly, allowing the slit to open further, exposing more and more stocking-clad leg. When she took off her shoe to rub her foot, I'd never seen anything like that before… what I now know to be a 'blackfoot' stocking. I was, to say the least, entranced!
After what seemed like hours (but was more likely only a few minutes), she got up and left. As I watched her walk away and admired the straightness of her seams, I found myself packing up my things and hurrying after her. Being a shy freshman and not nearly as confident as I am today, I wasn't able to go introduce myself, so I followed her at a discreet distance. Her class must've been all the way across campus, as it seemed like I was walking behind her for a LONG time. Mind you, I was in heaven watching those seams dancing just in front of me. I could even faintly hear the sound of her stockings rubbing together. What a sound!
Finally, she got to her classroom. I couldn't well follow her in, so I was thrilled when she got a seat adjacent to the open door. She then proceeded to cross her legs and move the slit so that I could still see the garter strap stretching to attach to the welt of her stocking. At one point, she reached down and started to adjust it. Well, I was about ready to explode by then… thankfully, my dorm room was fairly close by! And that is how it all began for me…
Origins of a stocking fetish – the school effect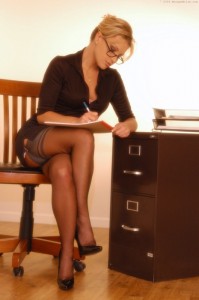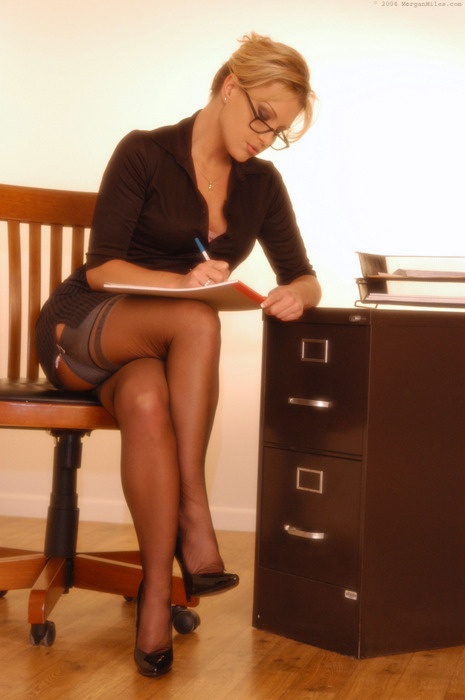 As a stocking lover since early childhood (since being fascinated with my primary school teacher's legs in tan seamed nylons when I was five), I am fascinated in the origins of people's love of stockings.
My love for stockings also started during my primary school years. My teacher wore nude colour stockings with very short skirts and I loved it. It only got worse as I got older, when I entered middle school, my S.S. teacher was wearing navy blue stockings with garters and a long wrap skirt. She took off her heels and climbed on a chair to reach the screen. I first was amazed that she took off her shoes but then when she climbed on the chair she revealed the tops of her stockings and her wonderful thighs.
Then in eighth grade my English teacher was wearing six-inch heels, black seamed stockings with black garters and a short black skirt about five inches above her knee. She sat on the desk in front of me and spread her legs wide open revealing the tops of her stockings and her underwear.
For me, as I said it began when I was five years old, in 1959 (my God it seems like a century, but I am a hopefully youthful 46 year old!). My primary school teacher, Miss Scott, in Glasgow was a gorgeous brunette and, this being the 1950s, she wore the frocks and dresses of the period, complete with masses of taffeta petticoats, with a wide belt around her small waist.
In particular, she wore tan-coloured seamed nylon stockings and high heels. The sound of her heels clicking along the wooden floorboards in the classroom, the swish of her petticoats and the sight of her shapely calves with stocking seams running up them made me punchy with delight. I do recall the intense ache of the excitement and not knowing how to fulfil it, other than a recurrent dream of sinking my teeth into the Miss Scott's thighs around her stocking tops. Infantile sexual arousal, clearly.
My first realisation that stockings were something to be admired was when my teacher plopped her skirt over me when I was six. The next time I noticed stockings was when in high school at about the age of 13 I had a new maths teacher. Now these were the days in Australia (early '60s) when many migrants from Europe were settling in Australia to build up our population. This teacher was from Germany, spoke very broken English, had an extremely hard face but would wear seamed stockings and high heels every day. That made her very interesting!
All my mates would try to engage her in conversation in the playground whilst the rest of us would be checking her out from behind. A sight that few had ever seen before. From there I went into the Air Force and the WRAAFs were issued with seamed stockings which they would only wear on Parade, as this was now the time that pantyhose was coming in and most wouldn't wear the "old fashioned stuff". Boy for a while there those girls in uniform looked delicious as they marched by. We kept up to date with stockings with little magazines called Spick and Span….but then they went the way of the Dodo along with stockings). After that I didn't see another pair of stockings until the late 80's when the last revival occurred… and by then I was hooked.
Origins of a stocking fetish – the family influence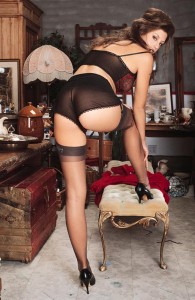 It began for me when I was twelve, back in 1978. At the time, the area I which my family lived had a great atmosphere and a genuine sense of community spirit (not anymore, alas). It was the custom for the ladies of our neighborhood to put on a bit of an amateur 'variety show' (not sure if they have 'variety' in the US) in the local church hall. There would be a little singing, a few jokes, a little bit of (very amateurish) conjuring and the like. It was all very light-hearted. That year, at the end of the show, the curtains were pulled back to reveal a line of can-can dancers – the wives and mothers of our neighbourhood! The taped music started, and a dozen or so ladies began their high kicks, flashing their stockings and suspenders (all black) and their knickers (a variety of colours – whites, pinks and yellows). I was instantly spellbound. Straightaway my heart began to thump. I simply could not believe what I was seeing; there were ladies I knew (including Mum!) neighbours and the mothers of friends, kicking up their legs and wiggling their big round bottoms, all clad in gorgeous briefs and hosiery. The act finished to thunderous applause and cheering.
That night I couldn't get the images out of my mind – I was a stockings addict at twelve! I didn't get much sleep that night either, as my parents' bedsprings were squeaking away for hours: I wasn't the only one turned on.
My story is a little different. I started out hating stockings with a passion. Growing up in the thirties until the age of about six, and before graduating to knickers, most boys in winter were forced to wear cotton or wool stockings with their shorts. The stockings were awful. Never long enough so there was bare thigh between the stocking top and shorts. They were held up by a single garter in front, or perhaps a pair of garters in a Y on a single strap. The garters were suspended from an over the shoulder bodice. The girls wore wool stockings too, but theirs were much longer, and moreover held up with a four-strap garter belt. I complained to my mother that my stockings should be longer, but to no avail. How happy I was to graduate to knickers. I got over my hatred of stockings-but that's another story…
My aunt was baby-sitting me at her house shortly after I shed my awful stockings. She was a slim, attractive widow in her early forties. She was always casual about putting on and adjusting stockings; they looked really good on her. In the bathroom were hanging to dry stockings, lingerie and a corset. I touched and felt her underwear, and loved the touch. As I turned to leave, my aunt was standing there smiling in her slip with a pair of stockings in her hands; she was obviously about to put them on. She asked if I liked her underwear. I stammered that her stockings were so much nicer than the ones I had had to wear. She asked if I would like to help her put on her stockings. I was trembling but somehow said yes. She showed me how to pull them carefully up her legs and fasten the garters to get straight seams. She then asked if I would like to try on some stockings. She said she had some that were short for her that would probably fit me. She had me remove my knickers, and put a wide garterbelt on me. Then, she watched while I put on the stockings, and carefully fastened the garters. She asked how I liked the stockings; I just loved them. It was the beginning of a long love affair. She gave me the garterbelt and three pairs of the stockings that were too short for her, saying that she wouldn't and I shouldn't tell my parents. Whenever she babysit for me after that, I would always put on the stockings. I still love them.
My fixation on women in their underwear, especially seeing their legs in stockings, was fixed forever in me by my aunt, when I was 10 or 11. I was staying at my aunt's one time. I was sitting at a table when she came in, wearing only a white corselette with dangling suspenders. My heart was pounding, and I tried not to look as I heard her open a drawer. It was the drawer of a dresser behind the couch (which was actually a pull-down bed where I had spent the night). I glanced back and saw her sliding a shiny bronze coloured stocking up her long leg and fixing it to the hooks.
She caught me looking, and I blushed and turned away. Next thing I know she has walked up beside me, pulled out a chair that is next to me, put her bare left foot on it, and slowly slid on the other stocking. She took a long time about it, drawing it up her leg, hooking the chocolate-coloured stocking tops with the rubber and metal clasps, and slowly smoothing out any wrinkles, working her hands up her leg from ankle to thigh. I was close enough to see every wrinkle in the nylon, and to hear the rasping sound the nylon made as it slid up her leg. I tried not to look, but kept glancing out of the corner of my eye.
She was talking about banal things, like the shopping expedition we would be going on and things like that. But when she brought her foot back down and moved away to put on her dress, I noticed she had an ironic half-smile on her face.
Origins of a stocking fetish – the movies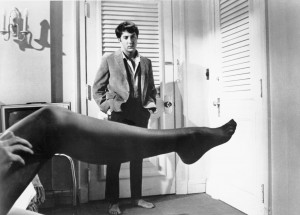 I began watching classic films of the '30s and '40s when I was around 10 or 11. I also used to watch all the Little Rascals shorts when I was even younger, and fell for Miss Crabtree. There was a style to the clothing that was just so elegant, and when she turned around, I saw the seamed stockings for the first time. Later, as I watched more and more movies, it seemed all the snazzy dressers wore seamed nylons. Those movie stars were so glamorous!
I must admit that I have been very partial to the films of the '40s, '50s and '60s. The ladies were always ultra feminine, the clothes always expressed confidence and a sense of 'I am feminine'. I always admired them and their (or the director's) dress sense. These images had a strong influence on my thoughts on dresses, and on femininity, in general.
As far back as I can trace, my interest in stockings began when Liz Fraser faked suspender trouble to distract the prison guards in the movie Two Way Stretch. The movie, which starred Peter Sellers (and has NOTHING to do with girdles, despite the title) was about a group of incompetent criminals who have to escape form prison then do a 'one off' heist to make them rich! Ms Fraser walks out of the cell on visiting day, says 'oops' and stops… and proceeds to hike up her skirt and refasten her stocking, all the time apologising for her dishabille and telling the guards how embarrassing it is! Naturally, their attention is focused entirely on her, while the other visitors, in the background, are seen tossing contraband goodies to the inmates!
Origins of a stocking fetish – a woman's self-esteem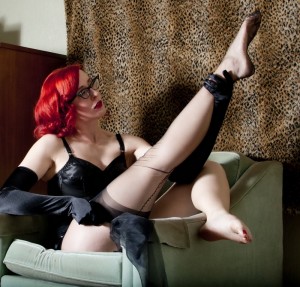 I have been wearing stockings and suspenders since I was eighteen. I was going through a bad time just then. I felt very frumpy in my usual clothes (mainly trousers). I didn't have a boyfriend and was feeling really down and frustrated. After all, who wants to 'hump the frump'? One day, I was talking about my problems with my Mum. She advised me to get some really feminine clothes and some new makeup to give myself a new start. We went on a shopping that afternoon and bought lots of new clothes. When it came to underwear, Mum asked me if I wanted to try out stockings and suspenders. I must admit I wasn't keen and said that I thought they would not be comfy at all. Mum said that they gave her a really special feeling and that I should give it a go. When I got home I tried on my new clothes and they really gave me a boost.
Looking at myself in the mirror in my new finery gave me a really big lift in my self esteem and I felt as though I was sexy and attractive (for the first time in years). Mum asked me how I felt and my blushes must have said it all. Mum confessed that she felt really sexy wearing stockings and that it always gave Dad the hots when she undressed. I was converted from that moment on, and have worn them regularly from then on. Even though only I know that I'm wearing them, they make me feel so much more sexy and feminine. I would recommend them to any ladies out there for helping their self-esteem. I'll be wearing stockings and suspenders until I go to that great sexy underwear shop in the sky.