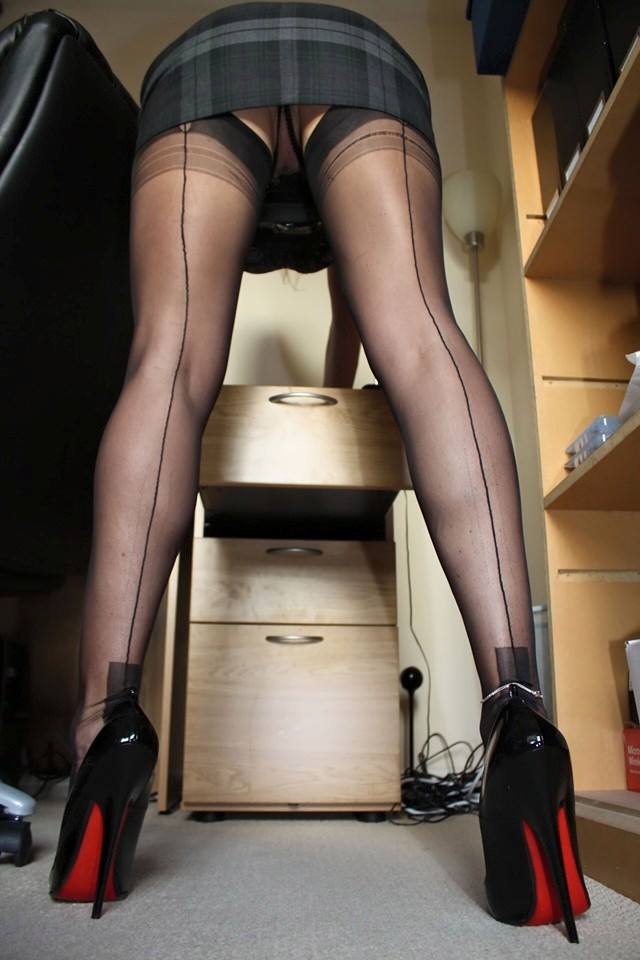 "What is it with you guys and seams? They are hard to keep in place, let alone straight, and my choice is seamless. I really don't want to draw attention to myself (like some floozie) and I really do not want to announce to all and sundry that I am wearing stockings and not pantyhose – that's my business (and whomever I might want to let know, but privately please).
"So what's with the demand for seams? Do any of you other ladies feel the same? Why can't the men just be happy when we like to wear stockings instead of going that next step and asking us to wear seams too? Is the word 'seamy' related to seamed stockings? Am I missing something here? What's the big deal with seams?
"I certainly do love wearing stockings. I always have, and as the only girl growing up with four brothers I liked to be feminine. My mom even encouraged me to wear stockings as I didn't like pantyhose. And I happen to think that sheer stockings are quite feminine enough, thank you, especially with pretty underthings. But I draw the line at seams.
"What do you other ladies think? Are men asking too much?"
"The main reason is seamed stockings are very pleasing on the male eye. What man is not aroused by nylon seamed stockings and high heels? When I was in Navy training as a young 17-year-old at HMS Mercury 1985/86 there was a PO WREN who wore these stockings. I used to see her when in the NAAFI shop at break times. She got admiring looks and her legs looked fantastic in them – almost as good as Kelly McGillis in Top Gun! However seamless stockings are just as pleasing as Tara Fitzgerald (Brassed Off) clearly shows."
"I am perfectly satisfied that there are many ladies I know who have decided to wear stockings instead of pantyhose (tights). The fact that some will wear seamed stockings from time to time is icing on the cake.
"Although I grant that without the proper support, seamed stockings can require attention, the allure has to do with the fact that they tend to make the leg look thinner. The reinforced heel extending up the ankle makes the ankle look thinner as well. The authentic seamed stockings (with the trademark keyhole) are sheer and therefore more flattering to the leg."
"I would not want you to feel like anything other than a lady, but when beautiful legs are displayed, men can not help but notice that their paths have been crossed by something wonderful. I do not want blatant exposition of undergarments – that is what my imagination is for!"
"Seamed stockings are a sign of femininity. Watching films from the '40s & '50s, it is a pleasure to see the actresses wearing high heeled shoes, beautiful dresses and seamed stockings. They do not necessarily give connotations that a woman is 'up or looking for it'. It means that a woman has taken pride in her appearance and has taken note of the finest details in her outfit. But seams are not 21st Century – they are high maintenance and we women are different today."
"Seamed stockings are wonderful. When a woman is out and immaculately dressed, nothing is more of a pleasure than for a male to look at the back of her legs to see if she is wearing seams. A male suddenly gets a rush in his pulse and his whole attention is focused on her, owing to the fact that she is wearing seams.
"I wear seamed stockings probably three out of five work days, and to church on Sunday (usually). I also wear seamless. For me it all depends on the outfit; if I am wearing something a little more casual, say an A-line skirt and sweater, I'll go with the RHTs. If I am wearing a suit, with a straight skirt, then I will more often than not grab the FFs.
"I love the way they feel, and frankly, I never have a problem with them. That's what a 6 garter girdle is for! I line them up in the morning when I get dressed, and that's the end of it. I adjust them briefly in the ladies, but that's five extra seconds per leg. Nothing to get all het up over, I assure you.
"I also agree that they make my legs appear more shapely and slender, and why shouldn't I take pride in my appearance? I confess that I wear them so often now that I totally forget I am even in seamed stockings. I guess with spring around the corner I'll be reminded more often."