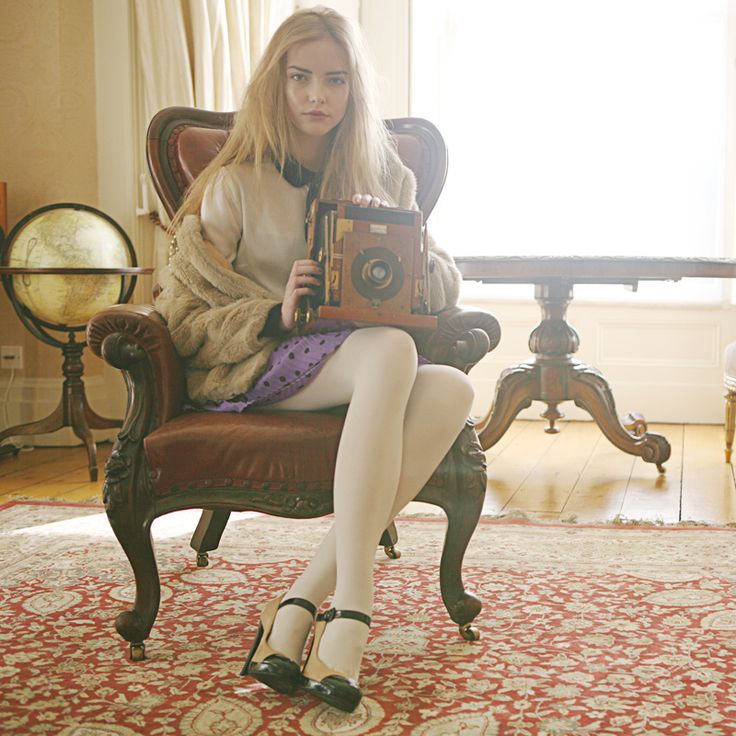 "I have noticed that apart from the 70 deniers, young girls have an aversion to wearing any form of hosiery. Are we to expect that the future generation of females are going to grow up and wear trousers and clumpy boots and deprived us female, leg-lover admirers of one of their greatest attributes?"
"I have just got back from a trip into Holland. Here, the carnival season is in full swing – in Holland the whole town was full of drunks in fancy dress costumes obviously having a good time. The place was quite mad.
"I had hoped there would be a better-than-evens chance of some girls dressed up in stockings but sadly no, I didn't see any. As a consolation though, the Dutch girls appear to have taken to wearing sheer nude pantyhose in a big way. Lots of them dressed in miniskirts with knee-length boots; the girl who served me in McDonald's was wearing nude tights and over-knee length black socks too – much better than the usual staff uniform!
"In a department store all the female staff except one (who was in fact a mature lady wearing opaques) were wearing sheer hose of various shades with a tendency to nude or tan. So in Holland at least, teenage girls have taken to sheer hose on their lovely legs. I recommend a city-break to a Dutch city immediately!"
"As a retailer we do see the trend of teenagers not wearing sheer hosiery. So with that in mind we recently started to have open evenings in our shops directed at teenagers and young ladies, to bring them in and let them find out what else is available other than opaques and to introduce them to the world of fashion hosiery.
"We have found that many of the young ladies were not really even aware that sheer hosiery was available and what it was all about, let alone it being a fashion garment. In general we have found that around 65% of the young ladies convert to sheer fashion hosiery after the visit. So things might be looking up for the future."
"Can't say I agree here. Naturally, young women won't wear anything 'conservative'… it's only right that they want their own music, culture and fashion. Piercings, Docs, wool tights, tattoos, etc, are things their parents DON'T wear, and are by definition 'cool'.
"But there are a number of other factors at work here. To begin with, it is an established fact that everything comes 'full circle'… look at the upsurge in interest in vinyl records (read any hi-fi mag), old movies or old cars. In a few years, boots and piercings and tattoos will be old fashioned – and hosiery will be right back in. You don't believe me? You surely don't think 'granny print' dresses, long dresses or boots are a new innovation do you?
"Also there are those wonderful leaders of fashion, the Goths. Of course, a young Goth right now will as like as not be wearing ripped hose, weird jewellery and black lipstick – but as the Goths in their 20s get into their mid thirties… and the first wave are about there… we will see a new wave of 'conservative' Goth fashion. Lace, gloves, maybe even girdles. And FFs and RHTs naturally. Don't give up hope!
"Then of course, there's the fact that few women, even out and out stocking lovers, wear hose for casual dress. Too hot, uncomfortable and bothersome. But in business dress, especially when they reach the 'higher echelons' such things become an unwritten law. Of course there's no exact rule – but go too often barelegged to a board meeting and you'll pretty soon hit that 'glass ceiling'. Whether this is politically desirable or not is a question outside of this discussion – but remember guys have to wear suits and ties too.
"Another factor is what I call the 'attention' syndrome. Learn a new word – say 'pontification' and all of a sudden, you see the word everywhere. This might be because of what Carl Gustav Jung called 'synchronicity' – meaningful coincidence – but it could also be the word was there all the time and you never noticed it. Start thinking stockings, and you'll see a lot more, folks."
"This is a particularly worrying trend. Teenagers in 2001 show no sign whatsoever of adopting hosiery, except, as you say, opaque 70 denier tights when they are forced to appear 'formal'. I recently attended a funeral, where, of the women present, only those well over thirty wore any kind of hosiery. As I work in a very big office, with a high percentage of female staff, I can confirm that for a female colleague under forty to wear hosiery to work is very rare indeed. Not remarkable, you understand, or unusual, but actually a rarity. It is the same in the streets where I take a stroll at lunchtimes. I suspect that for us, the game is up and that hosiery, in its traditional sense is already finished, though it might take a decade or two to vanish entirely. Stockings are already almost extinct in Britain, Australasia, Europe and North America – hence the ripples of excitement on this forum whenever someone reports a sighting. Now, even the so-called 'convenience' of tights is apparently too much effort for younger women. I suspect that hosiery per se will be reduced to the level of, say, fountain-pen usage – a pleasure to see, but virtually extinct. It is very depressing. Still, cheer up, think of the sophistication, elegance and erotic allure of heavy, thick-soled combat boots, ill-fitting leggings, black trousers and tracksuit bottoms. God help us all."
"I live close to central London, and work in the City. Apart from the few women who wear trousers, I would say 99.9% of those wearing skirts or dresses are also wearing hosiery of one sort or another. True, being Winter, a fair amount of them are opaques, but even in the cold weather we have now, I'd say at least 50 to 60% of them are wearing sheer hosiery.
"I am talking of women of all sorts, ranging from professional women (lawyers, businesswomen etc) right through to girls working as secretaries and shop assistants etc. Bare legs in London in winter are virtually unseen.
"As for the summer, although some might brave bare legs, I would still say that 75% or more were wearing hosiery last summer, even on the hottest days. So, as far as London is concerned, I don't think things are as bad as you have described (yet!)."