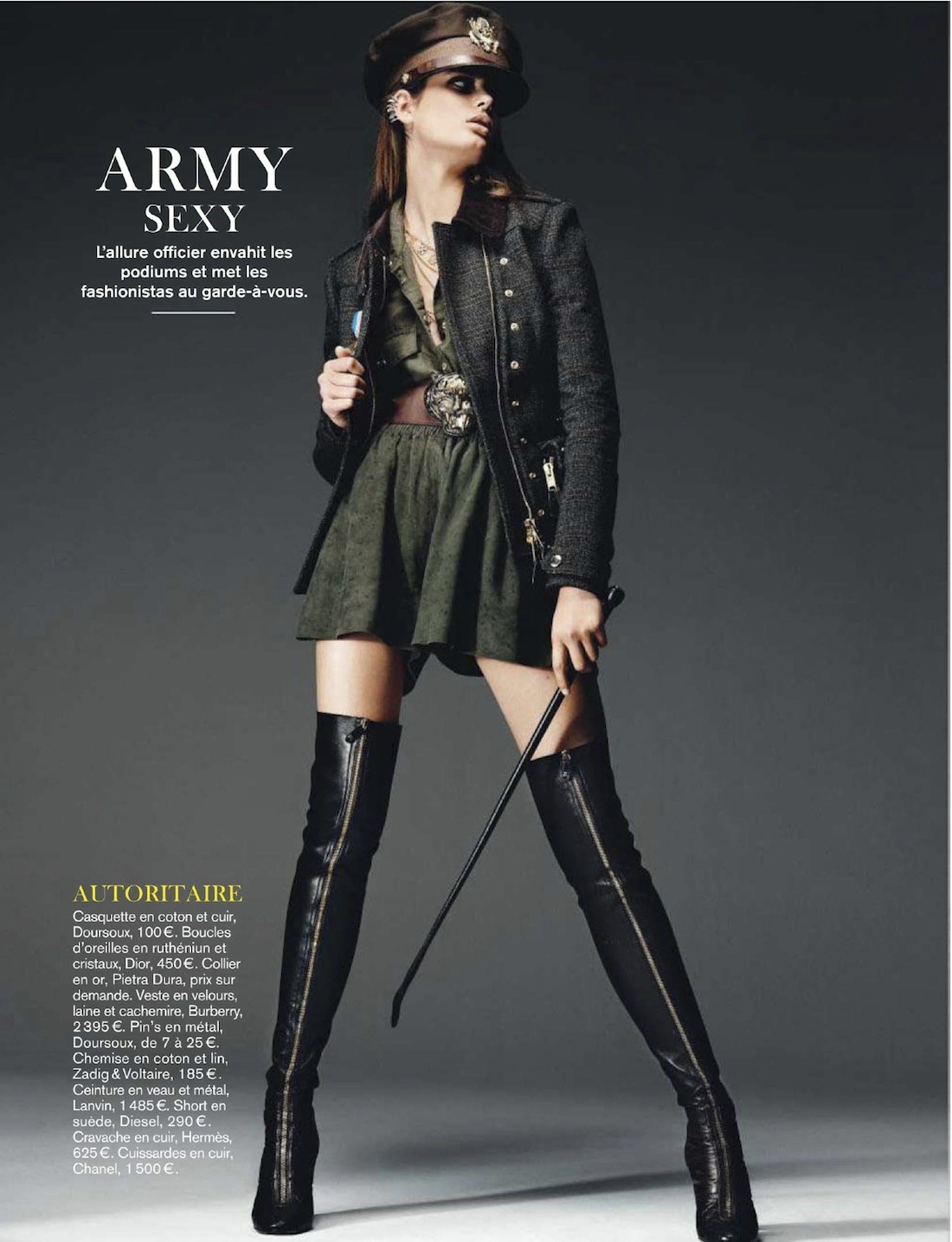 Thigh boots as articles of fetish clothing date back to at least the 1950s when Irving Klaw used them in the costuming of the women in his erotic photography. Since that time, they have been a staple of fetish and adult photography. For instance, Bob Guccione photographed the 1982 Penthouse Pet of the Year, Corinne Alphen, in a pair of black leather thigh boots for her feature layout. Similarly, Dwight Hooker photographed the Playboy 25th Anniversary Playmate, Candy Loving, in white leather over-the-knee boots for her layout.
Until the 2000s, fetish thigh boots were generally distinguished from fashion boots by being more extreme in many design dimensions, particularly heel height and platform height. In the late 2000s, this trend began to change as couture designers, particularly Christian Louboutin, began to experiment with more extreme designs in their shoes. Consequently, the difference between the two now is more a function of the materials used. In particular, fetish thigh boots tend to be constructed of polyurethane (PU) or vinyl (often incorrectly referred to as patent leather). In addition, they are generally produced in China and sold at low cost. An example line of inexpensive fetish thigh boots is sold under the brand name Pleaser.
A select group of European cobblers have specialized in higher-priced thigh boots for the fetish market. Legendary among these was the London-based Little Shoe Box, which crafted both ready-to-wear and custom thigh boots in leather and real patent leather. The Little Shoe Box, however, ceased operations in 2005 after 40 years of operation. Three other cobblers, Leatherworks Ltd. (London), Biondini (Italy) and Jean Gaborit of Paris have continued the tradition of producing higher quality fetish thigh boots. Jean Gaborit also specializes in boots and made-to-measure boots.
Jean Gaborit maintains its own online shop, but most other fetish boots sold online are commonly sourced from either Pleaser or Biondini—the latter more in Europe.