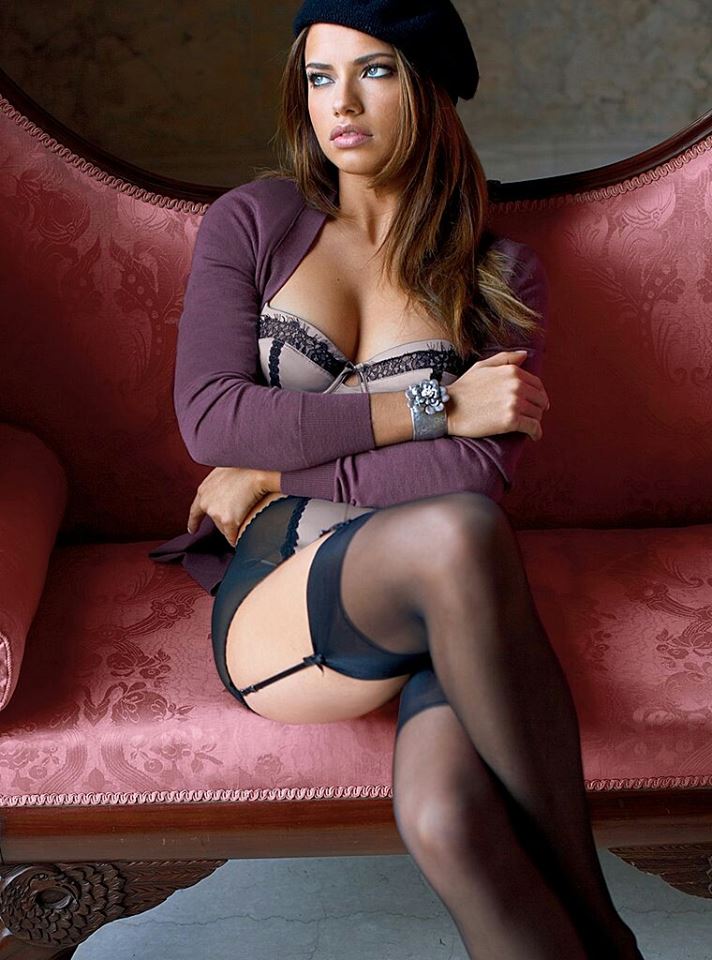 – Dear Doctors Nylon out there: what am I to do? It appears I will only ask out women who wear nylon. Recently I eschewed making an approach to a couple of quite attractive women. The reason? Their ungodly bare legs. And, as more and more women adopt the bare legs look, this obviously narrows the field for the kind of women I will go out with. Still, I persevere. Believe it or not, there are still a few women out there who coat their legs in sheer nylon. And I will continue – almost quixotic like – in my quest for them.
– May I assume that, in the best of all worlds, you would only date women who wore stockings? So, I am taking from your post that you will face reality and accept that such women are exceedingly rare these days. (I am told that these goddesses comprise about 2% to 5% of the general female population.) You, like so many of us, have decided that to have a love life at all you will choose to date women who wear "nylons" of any ilk, i.e. tights and avoid women who are bare-legged. There, now I think I've got your point. Right?
My comment is as follows; I think you have it backwards. Instead of looking at the legs to determine their covering or lack thereof prior to making a dating decision, look instead at the total package and then determine if there is a real attraction.
Suppose you found an exceptionally attractive (intellectually, emotionally, spiritually, physically) young lady who shared your general interests, tastes and pastimes. Suppose this woman was always barelegged. But, in all other respects, she was quite outstanding. Choosing not to date her simply because she was not nylonically enlightened would be cruel. Indeed, this woman is a potential convert. You have a mission my friend to spread the good news!
From my personal experience it may be easier than you think. I am currently dating a Russian woman who never wore stockings. She was barelegged the first time I saw her. She is now completely enlightened and a strong advocate of our mutual fetish. She wears stockings every day. I have had similar experiences with several ladies. But, I have found that it is far easier to persuade foreign women to wear stockings than the domestic variety, at least here in the USA.
But, avoid a woman who will wear stockings only as a favour to you. This may seem like kindness and love on her part at first but it will soon become bartering. She will soon try to "trade" wearing stockings for some other consideration or concession on your part. And, you will soon find that the price of having her in stockings is quite high, maybe too high. Avoid these women. They keep score. You can never win. Besides, there are more than enough women out there who, once used to the joys of stockings, truly want to wear them for themselves. These are the best kind.
By the way, breaking up with a woman you have introduced to stockings is one of the worst break-ups of all. You lose a confirmed stockings wearer, a great little lovemaker, an accomplished flirt and you just know that some other man is going to enjoy her nyloned charms without having earned it. You also know how much easier it will be for her to attract a man once he sees that stockinged leg and bit of thigh. No woman teases like a woman in stockings. It changes her entire outlook. She reeks of self-confidence.
– My god, you could not make more sense!
– I don't know… honestly, I've never had any trouble with getting the woman in my life to wear stockings and a garterbelt. All I've ever had to do is ask them and/or buy them some beautiful items… and voila!
For everyday, no… some of the women I've been involved with had jobs where it wasn't practical but for the most part, no problem really.
– Thanks for your replies. To clarify, I am referring to nylons generally, not just stockings (in that case I'd pretty well never find anyone!). I agree that this is certainly an alternative approach: convert the barelegged woman to wearing stockings (or pantyhose). And it is something I have considered. I'm not quite sure why I'm so resistant to it. Maybe I think that a woman who is not wearing them somehow "in her being" lacks the kind of femininity and style I am looking for, and that if I have to "convert" someone it will be something of a battle, no matter how subtle. I'd rather approach someone who is "sufficiently feminine" in this respect, who dresses a certain way because she "loves" dressing that way – that it is "integrated into her soul" and who indeed dresses this way "for herself" – and therefore does not have to be converted, engendering possible interpersonal grievances for being somehow "made to change". As I say, I've "got it" pretty bad – which I humorously call a malaise – hence my light-hearted appeal to "Doctors Nylon" on this site. But, hey, anything is possible.
Yes, trying to convert a woman is always a possibility, and perhaps I shy too much from doing it (though lord knows I've gone out with enough women in the past who were nylonless) but I find many women are resistant to "being converted" (so-called feminism and all – "I'm my own woman", "nobody is going to tell me how to dress"). Therefore, I'd like to approach women who don't need "to see the light". I also find women who already dress this way sexier because they've "integrated" this style of dress as part of their core natures, as the people they truly are.