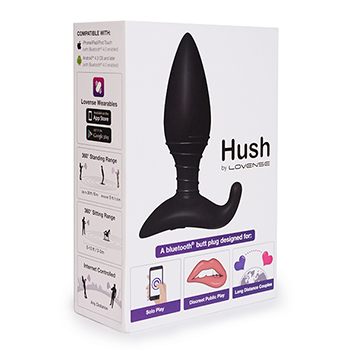 Hush is a smartphone controlled butt plug. It's designed for solo play, discreet public play and long distance couples. The hardware is fully optimized for public play so it's powerful, but quiet.
Close Range Control – Tap and slide control interface is perfect for solo play or foreplay with a partner!
Long Distance Control – Our app enables a partner to take control from any distance.
Unlimited Patterns – Create, download and share vibration patterns.
Music Based Vibrations – Sync to your favorite music
Sound Activated – Our app will use your smartphone's microphone and vibrate based on the sounds around you.
– World's first bluetooth plug which has live long distance control
– Fully optimized design for extended use (comfortable base with spirals along the neck which traps lube and ensures it's easy to remove)
– Strong and rumbly vibrations
– Nearly silent when inserted