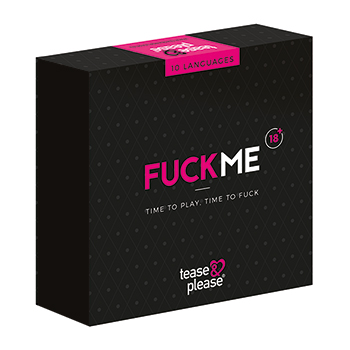 FUCKME is one of the many mischievous games in the 'XXX-ME' series by Tease & Please. It is aimed at two romantic partners and offers lots of fun and infinite fantasy possibilities.
This game allows you to discover positions that re not necessarily obvious, but can feel incredibly good. The attributes that are included will help fire up and/or increase your mutual pleasure, sending sparks flying.
The box contains the following attributes: a love ring, a vibrating love ring, and a set of erotic dice. In addition, the game contains six task booklets in ten languages: English, Spanish, French, German, Dutch, Polish, Russian, Italian, Swedish and Norwegian. Last but not least, this game contains a full deck of cards featuring 52 unforgettable Kama Sutra positions.
Take a chance and be surprised by the various tasks that focus on mutual pleasure. Every position has its own specific advantages, providing additional stimulation to certain spots. Moreover, they will make you very limber. Tease & Please wishes the two of you lots of playful pleasure!
In short, FUCKME is an absolute must for everyone wishing to experiment with various delightful positions, using the attributes that are included.