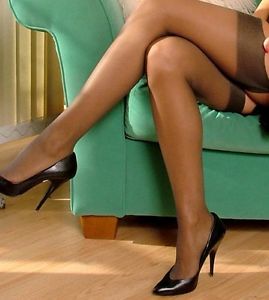 I have jury service for two weeks commencing this coming Monday. Anyone got any suggestions of where/what to look out for in the way of girls/women wearing stockings/holdups. I am in London. I look forward to your interesting ideas.
– In most courts, the jury bench is square-on to counsel's row so, depending on which position you are along the bench, you may get a direct view along counsel's row. If you have a short-skirted lady barrister sitting nearest to you in counsel's row, you might be in for some good views, although there may be someone sitting between you and her, interrupting the view.
Although the barrister's gown may add a protective layer, when sitting down, it most often falls away, allowing unimpeded view of the legs beneath.
Unfortunately, you will not have access to the bar mess, or robing room – which is usually my best viewing area. Most robing rooms are now unisex, which allows unparalleled opportunities for seeing such things as changing shoes (great for the reinforced heel/toe enthusiast), adjusting skirts etc, and lounging around in fairly low armchairs, which makes it impossible not to see any stocking-tops that may be on offer. I have yet to see someone actually adjusting her stockings, although I have seen more than one discarded pair in a wastepaper basket (presumably the actual changing took place in a toilet cubicle).
Anyway – good luck! Unlike you, however, not only am I in court every day – but I actually get paid for being there!
Some women wearing stockings, when standing up, will run their hands over the front of their skirts to make sure they're still "done up". Or you could try looking for the little bumps at the front if the skirts are tight. Good luck.