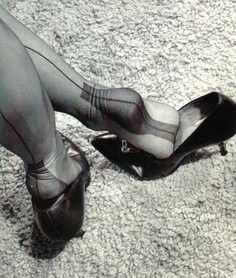 "Sorry for bringing this subject up if it has already been discussed to death, but I presume that most, if not all, contributors to this forum are familiar with the work of Elmer Batters. IMHO his photography is required reading for anyone with any pretensions to being a stocking fan, and especially fans of fully fashioned nylons.
"I must admit, that my mind was well and truly boggled when I saw the first Taschen book 'From the Tip of the Toes to the Top of the Hose' back in 1996. I had a day off work and wandered into my local branch of Dillons, saw a hardcover book with an attractive lady in FFs and had a look inside. It only took a moment for me to decide to buy it, and I am not one for impulse purchases, normally.
"The same goes for volume two, which is a far bigger and better (not to mention more expensive) work, 'Legs That Dance to Elmer's Tune', complete with velour jacket and encased with a tan-colour stocking!
"In that book they mention the release of a pair of limited-edition monographs featuring further Batters photography. But I have yet to see any sign of it. Does anyone here know whether it has been published (it was scheduled for 1998, I think)? One volume was to feature early black and white photos and the second, the later colour work."
"The only problem I have with Elmer Batters is his endless fixation with nyloned, and indeed bare, feet (yes I know he was a foot fetishist – I like nyloned feet as much as anyone but not to the point of obsession, which it clearly was with Batters). But this is more than made up for by the rest of his work, which I think is technically superb.
"I don't think that anyone else who was taking photos for the foot and leg/stocking fetish market in the '50s to '80s can touch him for the care and attention he took with the composition and lighting. He photographed some extremely beautiful women in very provocative poses, and they didn't all conform to the 21st century 'ideal' woman ie painfully thin. A lot of his models were really quite plump, which is no bad thing."
"Elmer is to stocking, leg and foot loving folks as Elvis is to rock and roll. He's the man! What a gift he had and he passed it along to us. Now we who love and enjoy what he loved and enjoyed can pass it on to the next group who will love and enjoy. His art and affection are timeless!"
"I am a 46/f who 'discovered' some Elmer Batters mags among my husband's personal effects about 20 years ago. (I wasn't spying, just cleaning.) I found them very arousing and they actually turned our sex life around as I began to emulate the wonderful things the girls wore. Yes, I know Batters often had girls without shoes, but if you recall he almost always had them standing up on their tippy toes, creating almost the same effect as heels.
"His models often had substantial thighs (an advantage for me!) and often the reinforced top of the stockings created a little 'bulge' just above that my hubby loved to kiss!"
"I first discovered him – and the book – also in 96, when I caught my friend leafing through it in an out-of-town bookstore. I couldn't believe it. Here was someone who had the audacity to snap pics of women's nyloned feet, and wasn't embarrassed to make a photo career out of it. I never knew such an art existed. How naive I was. When I got home I decided I had to have this book, so called the bookstore and ordered it over phone. I was pretty embarrassed. But the ever-so-cool clerk simply remarked 'Elmer Batters' as if I was ordering some book in the art avant garde. In the short ensuing years I have discovered other variants of this kind of photography to my heart's content. As a matter of fact, I never realised many more people than myself had this same kind of fetish, and was overjoyed to discover – alas god bless the web – there are many, many more. But please don't knock those nyloned feet images. They're heaven sent, we nyloned feet fetishists know for sure. Thanks for mention of the second volume. Encased in a nylon – how sweet!"