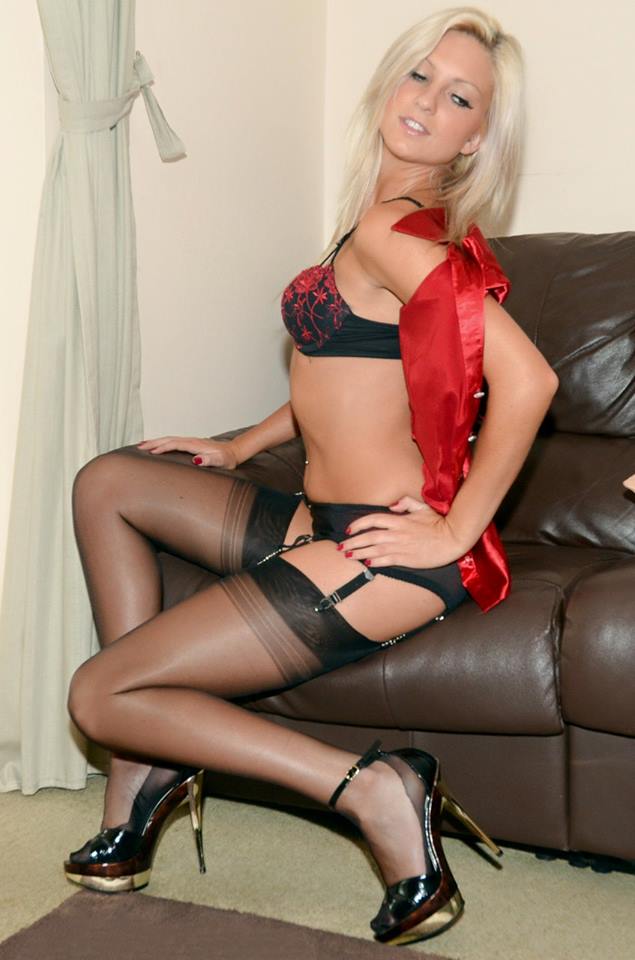 I hope that if there are any women reading this they will take the time to end my (and maybe a lot of other men's) curiosity over why women still wear 'classic' stockings and suspenders (garters) instead of 'newer' and 'easier' hosiery such as hold-ups or the so called suspender tights my wife recently bought.
My wife (28) started wearing stockings just after we got married and still wears stockings now and then, but less than she used to, mainly on occasions. She also always complained about embarrassing and awkward moments when her suspenders either broke or came undone. It always seems to happen when we are out. She hasn't worn stockings to work for some time since she got embarrassed when giving a presentation at work one day.
I also remember about three years ago on my way to work in the city a young woman walking ahead in the street in a funny way. She turned a corner into a side street I also took. When I also turned the corner she was a little bit ahead obviously trying to do up a stocking. I don't think she saw me or succeeded because when going up the same steps to my building I could see she was still trying to keep it up. She ended up going into my building and the same elevator. It was in the elevator that she noticed me glancing below, and she was obviously a bit embarrassed just smiled and said 'trouble down below', or something like that! She got off at a different floor!
I know that most women don't wear stockings these days and I'm certainly not complaining that my wife does! But I am curious why, if there is so much awkwardness and potential embarrassment why do so many women continue? Just how common is it really? Has it ever caused any problems?
– As Innova would probably tell you, the advantages far, far outweigh the occasional disadvantage in my eyes. It's like saying why do you drive a Ferrari when it uses so much fuel? There will be the occasional hitch, but these things happen, and they are far less problematic to me than the health risks and sheer non-sexiness of pantyhose.
– Thanks for your sincere reply Abby. I understand what you're saying and I suppose from a purely male and obviously 'selfish' point of view I could say I don't care why women wear stockings despite hitches – I'm not complaining.
The 'problem' is that my wife doesn't wear stockings anywhere as much as she used to until recently, though she did originally say that they were nice to wear. I was just curious to know whether the sort of problems she tells me about were actually 'normal'. It was in fact the first time my wife wore stockings when we went out and were getting out of the car she told me that one of her suspenders had broken. I didn't even know she was wearing them!
Most recently she told me that while sitting down her rear (?) fasteners somehow opened (?) and she only realised when she got up to give a talk in one of her meeting rooms at work, and got 'humiliated' by having her stockings 'dangling down' at the back while talking.
Also just how embarrassing or awkward do other women find it (ie what sort of response do women find that they get from others around them when, to quote my wife's words, their 'secret is out'). Are they treated less seriously than before?
If other women report here that this sort of thing does happen a fair bit, then I suppose I will appreciate my wife's 'efforts' even more. But if it isn't and she's doing something 'wrong' then I suppose I might be able to show some genuine messages from any women reading this site to 'reassure' her.
– My girlfriend stopped using stockings after only a little time. She says she has too many problems with garters coming open. Last time we went out together and her stockings started coming down in the street she was not happy. She says it happens too much. Is this true? I say it's only bad luck. I've never seen this before.
– Innova to the rescue. At all costs you must dissuade her from the evils of pantyhose. Suggest "stay ups" or suspender tights. More importantly she must try another suspender belt, or maybe her stockings are the wrong size. Does she wear stretch or non-stretch, or FF or RHT's? Just persevere and she will find the solution that suits both of you. But be understanding and don't force the issue too much. Treat her gently and she will respond.
– My girlfriend has worn stay up stockings but she always complains that they fall down slowly. I say she should buy some normal stockings and a garterbelt to wear so not to have any problem. Of course i like them better and she also says they are nice. But she only wore them five or six times. At work on the first day a back garter broke and she could not close it, so she had a problem keeping the stocking up.
One week ago we are out together and walking. Suddenly she got angry and said again that the garter was open at the back. Soon after she suddenly held her leg and said the other garter had come open. As we walked she had a problem keeping the stocking up and she got very upset from all the people looking.
Later she told me her friends also say they have same problem all time when they wear stockings. She says that the normal stockings and garters are very nice but she doesn't want to worry all the time with garters coming open.
– I have had a look at some unopened packs of my wife's hosiery. The makes are Charnos and Aristoc, and the suspenders are from Gossard and Berlei – does that help? My wife has worn hold ups but doesn't like them. Again, is there a make that (presumably more expensive!) does actually stay up? I find your description of pantyhose (tights?) as evil, funny. I am not sure if that will work?
– I can answer all your questions on the stockings problems. But first, at all expenses, do not let her even think about pantyhose.
I am a male and I have been wearing stockings very successfully for over 30 years. I have had embarrassing situations such as you explained. It is embarrassing when a garter comes undone and you have to go find a restroom to fix it. Even more so, is when both garters come undone and your stocking slides down out from under your pants and all these people see that you had on stockings!
With my experience with stockings, I have found that the problem lies in either that the stocking is too short or the garters on the garter-belt are too short. When both of these match, it is a perfect marriage!
Being 6'3″ tall I have a lot of problems finding long sheer stockings, I hate those stretchy cantrece stockings, they remind me of pantyhose! Lots of times when I go to buy a new garterbelt I have to shop around to find one with the garters that are long enough. And you have to make sure that you buy a good garter-belt – if you buy a cheap one it will have those cheap garter clasps and they will NOT stay fastened!
Even on some of the good garter-belts i have had to take off the garters that came with it and put on the garters that you can buy that are made for girdles, these seem to be a lot better garter and WON'T come undone and also most of the time they are the good metal garters like they used to be on the garter-belts. When they started putting on the plastic garters is when I started having most of my problems.
– From my own experience with my wife, ladies will wear stockings and suspenders subject to two provisos – first, that they are comfortable; and, second, that they do not feel there is any danger of the kind of problem you describe.
The solution to both problems lies in the fitting of the garments and the quality. As to the latter, the clips must be metal and not plastic. (I was in Selfridges the other day and noticed a range of suspenders from Rigby and Pellier, Corsetieres by appointment to Her Majesty The Queen; I was appalled and amazed to see they all had plastic clips.
– Three cheers for the recent hot spell. In the interests of comfort and hygiene, and because her job requires her to not to be bare legged, my wife has decided to bin her tights and to return to wearing stockings and suspenders. She has worn them before but stopped because the stockings wrinkled around her ankles. Someone has suggested a suspender belt with metal suspender clips as opposed to plastic clips.
You must ensure your wife wears the correct size or wrinkles will occur…..also girls have worn stockings with the welt turned over if a larger size is worn. In the U.K. stockings 'turned to tights' in 1968, I was 18 at the time but had seen enough in time, thank the Lord, all my girlfriends wore their pants/knickers over their suspender belt and never underneath!