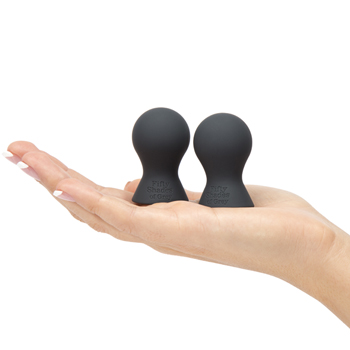 Enhance after-dark experiences and discover the arousal-boosting intensity of a little subtle suction with Nothing but Sensation, a set of 2 nipple teasers. Squeeze and release over areolae to create a gentle vacuum that increases size and sensitivity.
"A weekend of firsts." Fifty Shades of Grey
Run a touch of water-based lubricant around the rim of each teaser before application to ensure a perfect seal. Once in place the air pressure boosts blood flow to create delicious tingling sensations, for feather-reactive nerve-endings after removal.
Part of the Fifty Shades of Grey Weekend Collection approved by author E L James.
Key Features:
– Fifty Shades of Grey silicone nipple teasers for thrilling sensations
– Can heighten sensitivity for increased arousal in play
– Uses air pressure to draw blood into nipples
-Silk-soft silicone for a luxurious feel
– Simple to use
Length: 5,1 cm
Material: Silicone
Contains latex: No