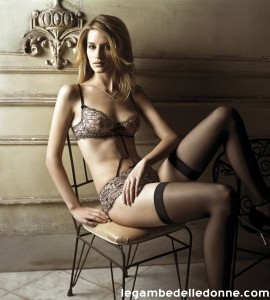 I have been with my girlfriend for eight months and have been a stocking/hosiery lover on women for a number of years (ever since I convinced my high school girlfriend to wear hold-ups about eight years ago). When I first brought up the subject of hosiery with my g/f, she told me she hated to wear pantyhose/nylons… which I took to mean all hosiery. I then asked her what she wears on her legs for special occasions when she has to dress up, and to my surprise she told me stockings, specifically hold-ups. She has worn hold-ups when we have gotten together for a few special occasions, but she has not chosen this form of dress on a regular basis since I have known her.
This past weekend, she and I attended a wedding shower for a friend of hers. The week prior I asked her what she was going to wear, and she said that the bridesmaids (which she is one of) were asked to wear a long dress/skirt. I was fearful of asking her about hosiery (in order to not sound like a pain in the ass about it) but to my surprise, she said that she would like to wear a garter belt and stockings under her dress. You could imagine my excitement at hearing her initiate that, because up to this point in our relationship, I have initiated her wearing of stockings by verbal request or by buying them for her.
So the night before the shower, she and I went out shopping, and together we picked out a beautiful and sexy black, silky garter belt form Frederick's of Hollywood. She said that she was going to be wearing a long brown dress, so she felt tan/nude stockings would compliment it best. That was the colour we chose, and after a nice dinner together, we went back to my house, where she gladly modelled her new treasure for me. She asked me as well to help her don her new hosiery, and show her how the clasps work, as she had never done this before. I told her I did some research on the subject (many thanks to all of you women on this site who have educated us men and other women on proper donning and clasping). During the time we spent afterwards (her modelling her wonderful legs, me admiring and drooling over them!), what I thought to be an insignificant incident happened. While caressing her legs, the velcro on my watch band nicked her right leg. We saw no immediate damage to the nylon and so our night continued on. The next day, as I was driving down to see her, she called me on her cell phone to tell me that she was not going to wear the garter belt. Momentarily dumbfounded , she then explained to me that she found a hole in one of the stockings when she tried them on… right where my watch band had nicked it! I of course, was immediately disappointed, and she too, expressed her dismay that she could now not wear her new lingerie (she had no other stockings, nor the time to go buy new ones). She said she would try on some hold-ups and see if those would work. She told me I would find out what she decided she was going to do when I saw her, which turned out to be the following… Bare legged.
By the time I saw this, my disappointment had passed, and I was just happy to see her, because she looked very beautiful in her brown dress and high heeled black sandals. I could only imagine how the stockings would have looked on her gorgeous legs in that dress and sandals. Regardless, we still had a wonderful weekend together.
I also made two observations that weekend as well. All the young women (20s and 30s) were barelegged at this shower, and the night before when my g/f and I were out to dinner, a group of high schoolers from a prom came into the restaurant, and out of the 15-20 girls who I observed, almost all of them were bare legged. That really blew my mind, and I know that observation has come up much on this forum. When I attended my proms in the early and mid '90s, the young ladies would not be caught dead bare legged at that type of function. I even overheard female classmates of mine stating that they were going to wear hold-ups. These sightings (or non-sightings!) were most disappointing to me for I long for the return of hosiery into everyday wear amongst the younger female crowd. My own opinion is that this will not be the case forever, and that like any trends, bare legs will go out of fashion, and hosiery will resurface. I remember being a kid in the '80s and seeing images and media from the '70s of people in bellbottoms and thinking how ridiculous that looked. I told myself that bellbottoms would never come back, but they resurfaced in the '90s and are still considered appropriate today. I feel the same rebound will happen for hosiery and stockings.
In terms of my girlfriend, the fact that she likes hold-ups/stockings is only one of the many desirable qualities I love about her. It is her in the stockings that I love, not the garments themselves (that point as well has been mentioned before by this site's contributors). I do not expect her to convert to a full time stocking wearer, (or even half time) and it would have no impact on how I feel about her if she were to not increase the frequency of her stocking displays. What I love most about it is that she knows I like her to wear stockings, and she makes the effort to do so (and has fun with it!).