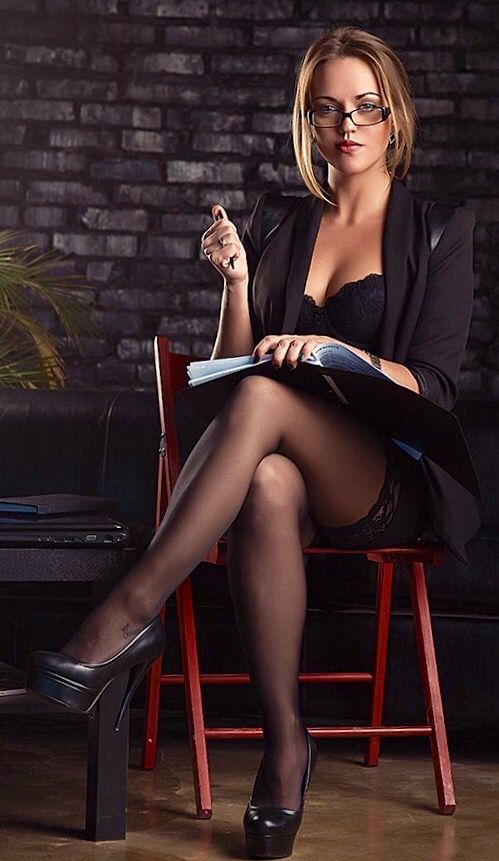 "As a stocking lover since early childhood (since being fascinated with my primary school teacher's legs in tan seamed nylons when I was five), I am fascinated in the origins of people's love of stockings."
"My love for stockings also started during my primary school years. My teacher wore nude colour stockings with very short skirts and I loved it. It only got worse as I got older, when I entered middle school, my S.S. teacher was wearing navy blue stockings with garters and a long wrap skirt. She took off her heels and climbed on a chair to reach the screen. I first was amazed that she took off her shoes but then when she climbed on the chair she revealed the tops of her stockings and her wonderful thighs.
"Then in eighth grade my English teacher was wearing six-inch heels, black seamed stockings with black garters and a short black skirt about five inches above her knee. She sat on the desk in front of me and spread her legs wide open revealing the tops of her stockings and her underwear."
"For me, as I said it began when I was five years old, in 1959 (my God it seems like a century, but I am a hopefully youthful 46 year old!). My primary school teacher, Miss Scott, in Glasgow was a gorgeous brunette and, this being the 1950s, she wore the frocks and dresses of the period, complete with masses of taffeta petticoats, with a wide belt around her small waist.
"In particular, she wore tan-coloured seamed nylon stockings and high heels. The sound of her heels clicking along the wooden floorboards in the classroom, the swish of her petticoats and the sight of her shapely calves with stocking seams running up them made me punchy with delight. I do recall the intense ache of the excitement and not knowing how to fulfil it, other than a recurrent dream of sinking my teeth into the Miss Scott's thighs around her stocking tops. Infantile sexual arousal, clearly."
"My first realisation that stockings were something to be admired was when my teacher plopped her skirt over me when I was six. The next time I noticed stockings was when in high school at about the age of 13 I had a new maths teacher. Now these were the days in Australia (early '60s) when many migrants from Europe were settling in Australia to build up our population. This teacher was from Germany, spoke very broken English, had an extremely hard face but would wear seamed stockings and high heels every day. That made her very interesting!
"All my mates would try to engage her in conversation in the playground whilst the rest of us would be checking her out from behind. A sight that few had ever seen before. From there I went into the Air Force and the WRAAFs were issued with seamed stockings which they would only wear on Parade, as this was now the time that pantyhose was coming in and most wouldn't wear the "old fashioned stuff". Boy for a while there those girls in uniform looked delicious as they marched by. We kept up to date with stockings with little magazines called Spick and Span….but then they went the way of the Dodo along with stockings). After that I didn't see another pair of stockings until the late 80's when the last revival occurred… and by then I was hooked."