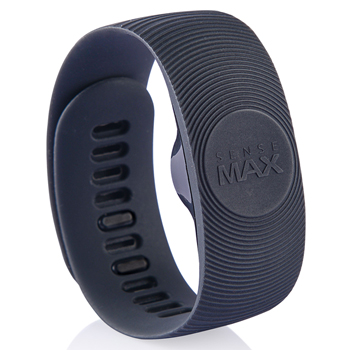 SenseBand is an interactive wristband with VR compatibility that allows you to enjoy adult content in a completely new way. Thanks to its discreet design and lightweight execution, this revolutionary wristband is the ultimate pleasure device that fits in wherever you go.
Elevate Your Handiwork
Extend your hand's powers and take your traditional handiwork to a new level. Its motion sensor technology and Bluetooth capability allow SenseBand to be connected to the Sense Lovers app on your smartphone. The application features a comprehensive library of customizable adult content, both real and animated, where you can interact with the characters in 180° and 360° videos. For the ultimate interactive synchronized pleasure, pressing the MAX button for 3 seconds will take you to the most intense scene in the video, taking your orgasm to mind-blowing new heights.
Sense Ecosystem Compatible
As part of Sense Ecosystem, an interactive platform providing a holistic intimate experience, SenseBand connects with customizable VR-enabled adult content that can be enjoyed with or without the Sense VR headset or any other virtual reality headset.
Nightstand Approved and Travel-Ready
SenseBand showcases a discreet minimalist look and modern shape, designed to make the wristband blend in naturally with its surroundings. If you're not using it for the interactive or VR- immersive pleasure functions, the versatile SenseBand also doubles as a nice piece of wearable tech that you can easily wear whenever, wherever.
Effortlessly Cool
Lightweight design and one-size-fits-all comfortable fit, SenseBand goes effortlessly cool around your wrist, making it the ultimate smart device for hands-free self-pleasure that can be worn during all daily activities.
Features
– Interactive Wristband
– One-size-fits-all
– Lightweight
– Hands-free
– Discreet Design
– Blind Control
– Climax Control Button
– No Charging Necessary
– 100% Waterproof & Dustproof
– Sense Ecosystem Compatible
– Virtual Reality Compatible
– 360º Virtual Reality Experience & Interaction
– Free App with Adult Content (Android 4.4 and iOS 8.0 or newer)
– Bluetooth 4.0
Waterproof
– 100% Waterproof
Material
– Silicon
– PC + ABS
Batteries
– 2 Lithium batteries included
Size
– Size: 115 x 100 x 27 mm
– Diameter: 40-60 mm
Comes with
– Interaction Between Free Sense Lovers app and SenseBand
– Two Lithium Batteries (3V, 130mAh)
– Manual (EN/FR/DE/ES/JP/CN)