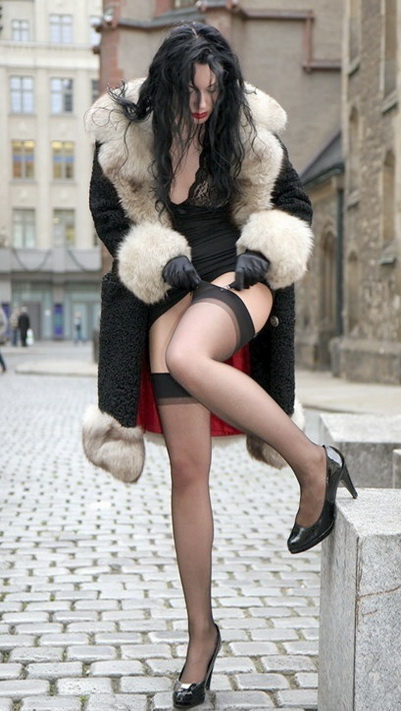 – How many men out there are willing to 'compromise' other features they may find not so attractive in a woman if the woman wears hosiery or otherwise dresses-up? For example she may not have as attractive a face or she may be too slight or overweight or her personality may leave a few things to be desired. Would you excuse these factors for the fact she wears nylons? I'm inclined to think I would and it may make 30-40% difference. However I do know women who always wear nylons and are always well-dressed and it still doesn't matter.
– Gotta be honest. As much as I love stockings, it's the girl I'm interested in. When I was younger I did it a few times. There was one girl with whom I was acting in a play with, who I caught in the dressing room (by accident) adjusting her hold ups. She wasn't particularly attractive but the stockings did all the right things for me, so I set my sights on her and to cut a very long story short ended up in bed with her a couple of weeks later. What I failed to realize was that she was a human being that had genuine feelings for me, and I was only interested in the fact that she wore stockings every now again. As a result I hurt her quite badly, which I bitterly regret doing.
Now I'm getting married in four weeks time to a woman who I love very much. She doesn't share my enthusiasm for the subject. But she does understand, and I'd take her over any girl that wears stockings day in day out. The reason… there's more to a relationship than sex. Ultimately our fascination with women's legs and hosiery is sexual… I know mine is!
I am coming up on my second wedding anniversary this fall, and I am happier every day! It's unfortunate that you had to go through such a heart-rending breakup, but it's important to learn for yourself the things that will make you happy and fulfill you. Earning the trust and devotion of the woman you love is more valuable than anything.