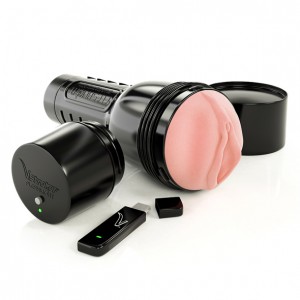 Vstroker is the world's most advanced virtual sex system. Attached to a Fleshlight, the VStroker monitors the speed of your strokes. Every penetration of your Fleshlight is wirelessly transmitted to your PC and simulated within the Vstroker enabled content. Fuck the hottest stars and the newest amateurs who will beg you for more. Thrust slowly and listen to her moan, fuck her hard and hear her scream! These girls are dripping with seduction… and you control everything. Even the moment you cum all over her!
The Vstroker enabled content includes:
– Videos
– Games
– Interactive Worlds
– Cams
– And more!
How to get started?
1. Replace the Fleshlight end-cap with the Vstroker cap
2. Plug the Vstroker receiver into your PC's USB port
3. Use the limited 7 day free access to VStroker Member's Area to download your VStroker Enabled videos
How do I use the Vstroker?
Login to the Members Area and download the interactive videos you would like to watch. After the video is downloaded, unzip and play the video. Make sure your Vstroker is plugged into the USB port of your computer. Your computer will automatically detect and interface with the Vstroker.
While watching the video, you can select the different interactive scenes you would like to access. When the toy is active, you can now control the action on the screen with your thrusts into your toy.
How durable is the Vstroker device?
The Vstroker harware is encased in heavy-duty plastic. It's durability is comparable to that of a TV remote or game consol controller. It can be dropped and possibly even stepped on without breaking (although this is not recommended).
How do I connect the Vstroker to my Fleshlight?
Simply unscrew the cap off the back of your Fleshlight and place the adapter in its place. It will snuggly replace the cap and connect the toy to the Vstroker.
How do I connect the Vstroker to my computer?
The Vstroker easily connects to your computer via the included USB cable.
Is the Vstroker waterproof?
While the Fleshlight is waterproof, the Vstroker device is not. Keep away from liquids.
Will my computer automatically detect when the Vstroker is connected?
Yes, your computer will automatically detect and interface with the Vstroker the same way it would if you plugged in a mouse.
Does the Vstroker require any software or drivers to install?
No. All software is contained within the downloadable videos and games, so you do not need to install and drivers or software.
Does the Vstroker require batteries?
Yes, these are included (2x AAA).
Note: the Vstroker will be delivered without Fleshlight.