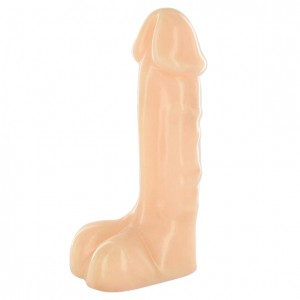 A dildo is a device usually designed for penetration of the vagina or anus, and is usually solid and phallic in shape. Some expand this definition to include vibrators. Others exclude penis prosthetic aids, which are known as "extensions". Some include penis-shaped items clearly designed with vaginal penetration in mind, even if they are not true approximations of a penis. Some people include devices designed for anal penetration (butt plugs), while others do not. These devices are often used by people of all genders and sexual orientations, for masturbation or for other sexual activity.
Rubber dildos, usually incorporating a steel spring for stiffness, became available in the 1940s. This was a less than satisfactory arrangement because of the potential for injury from cuts by the spring if the rubber cracked and came apart. Later, PVC dildos with a softer PVC filler became popular. Most of the inexpensive dildos sold in the 2000s are made this way.
PVC and jelly-rubber toys have been found to be problematic because they contain unsafe phthalates, softeners added to many plastics that are also found in some jewelry, food containers, and other soft rubber toys. Phthalates have been linked to health problems such as cancer and prenatal defects. Products made of PVC or jelly rubber cannot be sterilized. Manufacturers recommend using condoms with these toys if users share them.
In the 1990s, silicone rubber dildos became more popular, a trend that has continued as the prices have lowered. These are easier to clean and do not have the characteristic plastic aroma of PVC. They were expensive when introduced but are now reasonably priced, making them an excellent choice for the first-time user. Silicone holds body heat well, and is an excellent conductor of vibrations, allowing users to hold a vibrator at one end. Silicone is also a robust material (especially when compared to the cheap, unsafe jelly rubber that many dildos are made of) that can be sterilized by boiling or bleaching (using a bleach solution, diluted: 10% bleach 90% water).
High-end, chrome plated steel dildos are also popular in the BDSM scene. Some users prefer them because of their hardness, firmness, durability, electrical conductance (see erotic electrostimulation), and low friction, especially when used in conjunction with lubricant. Because they are heavy, they can be used to exercise vaginal PC muscles.
A steel dildo may be warmed or cooled in water before use to elicit a range of temperature sensations. It may also retain body heat of the user. Because of its polished nonporous surface, it may be sterilized in boiling water, or in an autoclave.
Glass dildos have similar features to steel ones. In most of the cases, glass toys are solid, and made of Pyrex or other types borosilicate glass (Schott-Duranglas and Simax), although this may vary, depending on the manufacturer. Like steel, glass toys may be used to apply firmer pressure than silicone can to a female's G-spot (urethral sponge) or male's prostate gland. Unlike other types of toys, glass sex toys can also be personalized with inscriptions.
Cyberskin is a synthetic material that feels more like human skin. It is a porous material and cannot be sterilized. It often gets sticky after washing (which can be remedied by a dusting of cornstarch) and is more delicate and more prone to rips and tears than silicone dildos. "Packing dildos", which are not designed for penetration, are often made of this material.
Phallus-shaped vegetables and fruits, such as bananas or zucchini have even been used as dildos. Any object of sufficient firmness and shape could be hypothetically used as a dildo.
Conventionally, many dildos are shaped like a human penis with varying degrees of detail; others are made to resemble the phallus of male animals. Not all, however, are fashioned to reproduce the male anatomy meticulously, and dildos come in a wide variety of shapes. These may resemble figures, or simply be practical creations which stimulate more easily than conventional designs. In Japan, many dildos are created to resemble animals or cartoon characters, such as Hello Kitty, so that they may be sold as toys, thus avoiding obscenity laws. Some dildos have textured surfaces to enhance sexual pleasure.