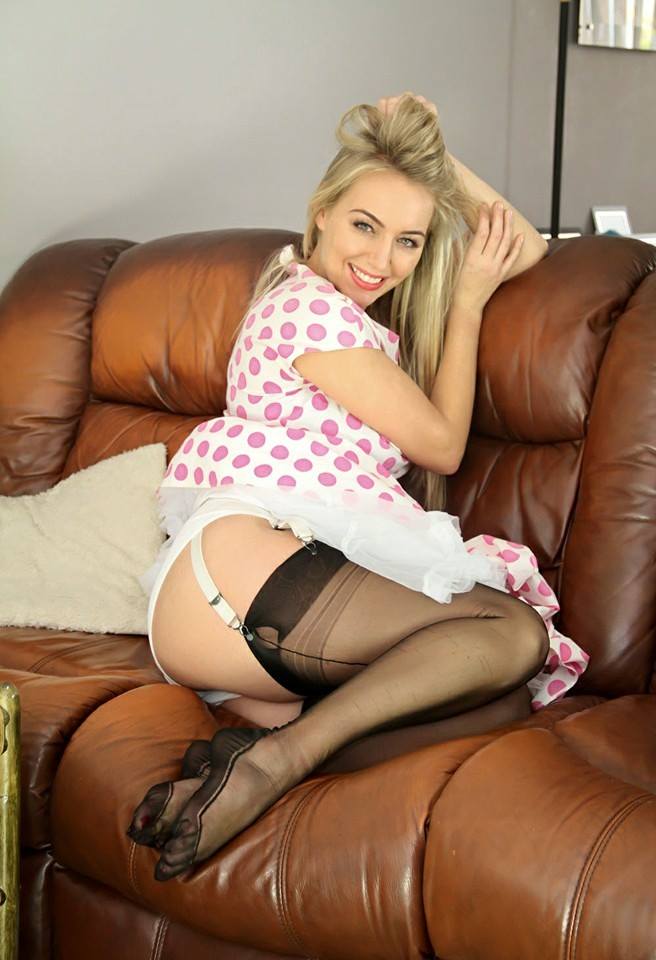 – Not everyone wears stockings and garters for sheer sexual reasons. I started at age 10. I had bad yeast infections and still do six years later. I still wear hose but enjoy them for many of the reasons a lot people here would agree with… My collection of garterbelts varies form sexy to cotton everyday ones. I have also found it is cheaper to wear hose as one stocking can be matched with another when damaged. I miss wearing really short skirts when younger.
– I'd like to ask you a couple of questions… How do you distinguish between 'everyday' garter belts' and 'sexy' ones? Personally I find all garter belts sexy; but sexiness is often in the eye of the beholder, don't you think? Your 'everyday' might be some man's 'sexy'! And secondly, do your friends know you wear stockings and garter belts, and what reaction do you get from them?
– I agree. Garterbelts can range from 'sexy' to 'everyday'. I currently have 51 garterbelts in my collection. The ones I consider sexy, are the ones that are not designed to be worn under clothes. For example, I have one with a lace ruffles on the sides, another decorated with silver chains and another with neon glow-in-the-dark trim. The everyday ones are basically for holding up your stockings… that's it.
As for wearing a short skirt, I miss that, too. But, there is a time and a place for that. Usually, once or twice a month, my friends and I go club hopping. Most of the time we wear short skirts with stockings. We always have a blast.
– Everyday suspenders are the ones that actually work and allow one to wear stockings for a whole day with no problems. These are plain, no frilly straps, but they work!
– For daily wearing there is no need for frillies. The best garter belts are totally plain and – this is important for me – do not have those awkward garter ribbons. Just a nuisance, until you remove them.
– Though I'd love to see glow-in-the-dark suspenders, the plain practical ones also seem to me essentially the sexiest, i.e. a good flexible no-nonsense strap, with no ribbon to hide the (preferably) metal clasp. And deep at the belt. though one of the great things about suspenders/garters is their infinite variety – 51 varieties!
To answer a few of your questions, I buy my garterbelts from almost any store that sells them. From classy lingerie shops to discount department stores. I bought the neon glow-in-the-dark garterbelt in a lingerie/novelty shop called '…It Store', last year when I was in Canada. And, in case you're wondering, the world record for the largest collection of garterbelts is 3,059 (this was 3 years ago), by a woman in California. It is categorised under 'collections'.