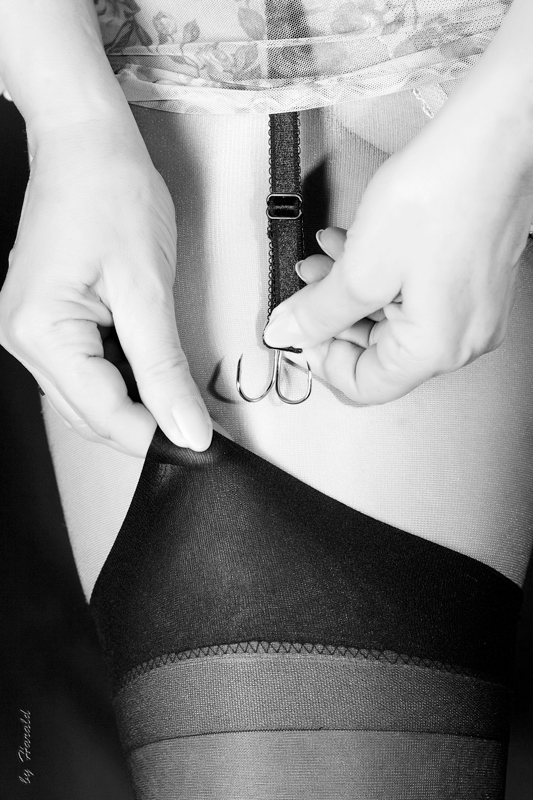 – I'm a 35 year old female residing in New Orleans, Louisiana. A male friend I chat with on America Online introduced me to this forum and I thought readers might enjoy my own story and viewpoint on our 'favourite subject'.
I've always enjoyed lingerie and dressing well, but during a ten year unfulfilling marriage I didn't take a lot of time for either. Three years ago after my divorce, all that began to change. I started dating quite a lot. I found myself dressing much better both for work and certainly for dates. I also started chatting a lot on AOL. I would often ask guys how they liked a woman to dress and a great majority of the time, stockings and garters were included in the description. Like most women, I had never worn them but I decided to give them a try. I think it was the way they made me feel combined with the reaction I got from my dates that got me hooked.
I won't tell you that I switched exclusively to wearing stockings. At first I just wore them in the bedroom but eventually I began wearing them on dates and finally under my dresses for work. I've always felt very sexy wearing them but if I had to use one word to describe how I feel wearing them it would be classy.
The more that I wore stockings and garters, the more I found myself wanting to wear them. I certainly found myself wearing dresses and skirts for work far more often than I had before. Since I began wearing them, I have met several women who wear stockings rather than pantyhose and I have found several common threads that seem to unite them. One is that they are generally professional women who dress very well to begin with. They tend to rarely wear pants and almost never for work. They tend to be in good shape, very self confident but unlike a lot of today's working women they also seem to enjoy being women. I know that this description fits me and the other women I have met who enjoy stockings; I'm wondering if readers of this forum have found the same thing?
– It was good to read your post re your feelings about wearing nylon stockings and garterbelts. I have always thought such things added a lot of erotic allure. So I'm glad to see some women are actually catching on!
When I began seriously dating in my last year of high school, my girlfriend Betty always wore a garterbelt and sheer nylons when we went out. She had a rule, being protective of her virginity, that I could caress her legs up under her skirt but only to one hand width above her stocking tops! I always begged her to wear longer stockings! I have to tell you what a thrill it was to sit in a movie and caress her smooth sheer stocking clad legs and anticipate the even greater thrill to feel that limited bit of bare thigh as we would 'make-out' in the car afterwards! I think I got just as much excitement from that as the actual sex act when we began 'going-all-the-way'
Now I know you will think this wierd of me, but one night during a weekend getaway at the shore, we were clowning around and she got me to try on a pair of her nylon stockings. Gad I loved the feeling!
But now for the weird part. I could not get the feeling of having those sheer gossamer nylon stockings on my legs out of my mind! I was compelled to buy a few pair and try them on. Before long I had several garterbelts and numerous pair of stockings. I was even wearing them out and about, under my pants. I know you will think this odd, but after all, you gals wear whatever you please, so why shouldn't I?
– I just switched over to wearing stockings and a garterbelt five months ago, and I'm finding I love my silky soft fully fashioned stockings. They make me feel very sexy indeed. I have lots of skirts and dresses and I like feeling very feminine wearing them. Stockings make wearing them extra special because it's a feeling I just can't get with pantyhose.
– I just wish there were more women in the Phoenix, Arizona area that wore stockings as part of their regular business attire or even casual. I feel kind of alone in my liking for stockings.
– There's no doubt in my mind that stockings are much classier – my experience is that it is a certain type of lady who wears them. I find it more exciting to come across someone who wears them on an everyday basis – I think it shows real independence because most will automatically chose pantyhose.
– Your comments about the type of lady that is attracted to the elegance and class of stockinged-attire matches my 'male' perspective. While I'm unsure whether my perspective is factual, or fantasy, I know my wife's experience equates to the personal experience you shared with your posting.
After working in our family business for many years, she accepted a job at the headquarters of an 'old school' multinational corporation headquartered here in Atlanta.
She started working out regularly at a health club shortly after her re-entry to the business world. As she lost weight and toned up, she gained i 'nterest in feminine attire. She agreed to wear stockings on more formal occasions, and expressed appreciation for the positive feedback. She commented often that she felt more elegant when clad in stockings, and she began wearing stockings to work.
My observations of ladies I've noticed wearing stockings and garters is they appear more upscale, fit, and confident. Maybe it's what I look to see, or maybe it's the 'look' that catches my eyes. But, from my male perspective, confident women clad with the finished touch of stockings ALWAYS attract my visual attention. They leave a distinct image of tasteful class and elegance.