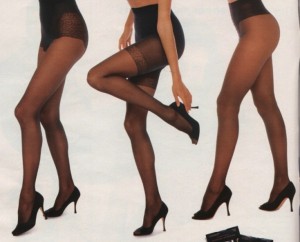 I have yet to see a pair of pantyhose that can match the sheen, lustre, and overall raw sexiness of a pair of well crafted stockings. The basis of nylon's attractiveness is based on multisensory appeal…I feel that visually and tactilely pantyhose lack the impact that stockings possess. Even the sheerest of pantyhose lack the denier and gauge that gives stockings their superior appeal.
There is nothing more sensual than a beautiful woman adorned in nylon stockings and a garter belt. Being a Scot residing in Australia, I would compare the introduction of pantyhose to no longer being able to purchase square sausage. Both these events can easily be referred to as 'tragedies'. I am 53-years old and feel privileged to have spent my courting years around such sexily presented girls in the sixties and early seventies.
You must understand the absolute pleasure of seeing a peek of stocking top revealed from beneath a woman's skirt. The scenarios are plenty and everyday – getting in and out of cars, bending over a desk in the office, crossing legs on a train, sat on a barstool in the pub. Most men would not only notice a woman in a short skirt with sheer hosiery, but would look to see if they were stockings. The tell tale bumps further up the skirt is often another good indicator. These are the things that make the world go round, that make life worth living!
I have a partner of a number of years who finds the wearing of pantyhose preferable to that of stockings. This is for a number of reasons: she feels that they are more flattering, keeping unsightly bulges safely hidden away. She will occasionally wear stockings for me because that is what excites me most. However as for myself I find them the biggest turn off imaginable. There is absolutely no eroticism associated with pantyhose, absolutely no glamour associated with them. I cannot think of anything so tedious as a woman in bra, pants and pantyhose.
Never mind condoms, the pill, etc. the biggest contraceptive just has to be the pantyhose.
I remember the frustration I experienced as a young man, running my hand up the leg of the girl of the moment only to find a nylon gusset at the top and the disappointment I felt at the time. It is a fact that I would have experienced sexual intercourse more often had it not been for girl's pantyhose.
Stockings (and for me in particular lace holdups) are in every way superior than those articles of the devil, the pantyhose. I have seen women coming down stairs on the London underground showing the lace top of her stockings and it has added that extra boost throughout the day. Pantyhose would not do this. Just the thought of running my hand up the leg of a ladies leg to find the top of stockings would increase my heart rate. Pantyhose would not do this. I have seen women remove pantyhose and remove stockings and every time I find stockings far more sensuous.
Stockings are the sexiest attire ever invented, the glimpse, feel and removing of which are the biggest guaranteed turn-ons. Tights are quite possibly the least sexiest thing ever invented; passion killing, fun stopping, turn offs.
I have never met a man that favoured pantyhose over nylon stockings (hold up or suspender-garterbelt type) in today's society from the USA to Europe and all the islands. Stockings are making a greater comeback than the euro did for the dollar.
Since the invention of silk stockings men and woman have been intrigued with their allure. This pace slowed down on the introduction of pantyhose. I believe it was a quick fix for the fast paced business woman until lingerie from decades ago became very vogue. We now have a stocking frenzy…