The FixSation Couple's Vibe is the only rechargeable, hands-free, non-invasive, clitoral stimulating device that is worn by the woman while making love. The Couple's Vibe is secured by the backless, crotchless panty companion featuring removable bands that slide through the side chambers of the vibe and fasten to the backside of the panty. FixSation is as sexy, discreet, and comfortable as wearing a piece of lingerie!
The non-invasive, rechargeable Couple's Vibe is ergonomically designed to cradle the woman's anatomy and fit flush against the man's pelvis. Its curved exterior utilizes partner pressure and movement for concentrated friction and vibration on the clitoris, while still allowing for uninterrupted penetration, thereby enhancing overall stimulation and increasing the opportunity for the woman to quickly and consistently reach orgasm during every intimate encounter.
FixSation is: effective, patented, rechargeable, eco-friendly, certified, made of ABS plastic with a PU coating, and warrantied!
Featured product highlights:
– Single push button control
– Non-invasive
– Hands-free
– Wireless
– Quiet & powerful
– Does not heat up during use
– Long-lasting (up to 2 hours on a single charge)
– Discreet & comfortable
– Velvety cover coating
– Lightweight & compact
– Non-toxic
– Body safe & eco-friendly
– Hypoallergenic
– Phthalate- & latex-free
– Ergonomically designed
– Multiple speed variations
– LED light-indicated functions
– Made of medical grade materials
– Simple cleanup: soap and water
– Durable & water resistant
– Stays in place while making love
– Rechargeable
– Requires no remote controls
– Requires no disposable batteries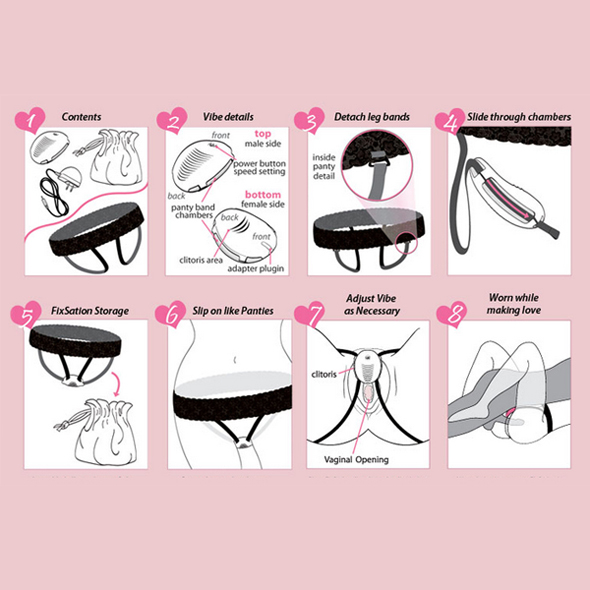 Stimulation modes:
To turn FixSation on or off, hold on/off button down firmly for 3 to 4 seconds. To change modes, hold on/off button down for 1 second; LED light will flash to indicate the change in modes.
• Mode 1: on/mild vibration
• Mode 2: intermediate vibration
• Mode 3: intense vibration
• Mode 4: off