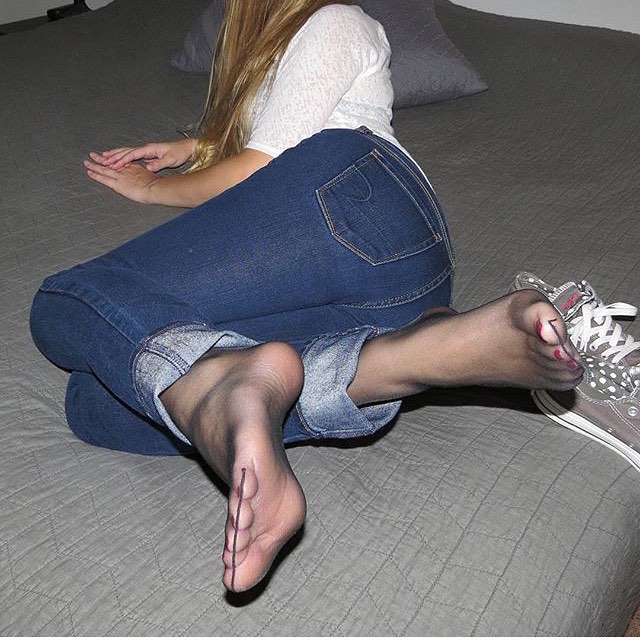 – A question. In response to some of my posts a few people have indicated that they find stockings under trousers to be very sexy. To me it all seems a bit pointless – I don't really see why it is worth bothering to put on a pair of stockings if you are going to wrap them away in trousers anyway. For me stockings should be an all or nothing thing and that has to mean wearing a skirt. But as we live in a democracy let's put it to a vote. Are stockings sexy under trousers?
– Well personally it depends on how long the trousers are going to be on and under what circumstances they are going to be removed and the reason then becoming apparent as to why a female is wearing stockings. Not forgetting in which hotel room she is going to spend the night!
Then again I agree with you, trousers are not always the most glamorous garment on a lady unless she has the right figure and the garment is well tailored. But if she is going to wear hosiery, it must compliment and be pleasing to the eye in those few inches between the hem and the shoes.
Mind you, at least hosiery is a pleasing site on a woman in trousers as it is all to common too go without. It is obscene to see a man dressed in trousers and shoes with no socks, so why do women go without hose?
– My wife rarely wears slacks/trousers. When she does she almost always wears stockings with them. The alternative "pop-socks" are ugly, bare feet are rarely an option as she does not like the look or the feel
– A reason some people may not mind stockings under trousers is because they simply admire stockinged "feet". Like me, they have a stocking foot fetish. So it really doesn't matter a great deal if the woman is wearing a dress or pants. I do prefer women in dresses or skirts – since it creates an overall more feminine, stylish, alluring and sexy look – but it's not so bad if they wear trousers so long as they wear nylons. But trousers without nylons (i. e. cotton socks or bare) … just isn't on!
– I have one memorable memory of stockings being worn under trousers. This was the mother of one of my sister's school friends in the mid 1970s.
A farmer's wife, she was wearing tightish trousers, similar in colour, texture and appearance to jodphurs, and heavy duty lace-up shoes. It was when she bent forward that I noticed the outline of a heavy panty girdle with suspenders and an inspection of the gap between her trouser cuffs and her shoes revealed the heels of 30denier+ FF stockings. I remember being overwhelmed and curiously excited by the "heavy duty" nature of this outfit compared with the skirt and more feminine shoes she might otherwise have worn.
– Following on the "look" you described, check out the 1977 movie "September 30, 1955″ starring Richard Thomas for some absolutely stunning shots of the character's shapely mother, wearing very tight jeans that end at her calves (almost like capris), and FF nylons with high-heeled sandals. Now that's a look!
– I remember seeing a girl in her early twenties in 1988 at Wimbledon railway station wearing black trousers, high heels and FF hose, although I never knew if they were stockings. Sexy all the same!
– I have always loved the idea of stockings, suspenders and delicate panties under jeans. I think that it is the mix of the roughness of the denim covering up the sensual softness of the lingerie.
I went out with a girl many years ago who – when I danced with her at a party and put my hand on her trousered bottom – gave me the nicest surprise of a feel of a suspender strap! She smiled at me then and said that she was wearing them just for me as she knew I loved stockings and she had been trying to get my attention for a long time. My hand stayed on her bottom for most of the night!
– When I was a boy in the late '50s, women often wore stockings under their slacks, especially when going to church functions on the weekend. I remember having fun looking for suspender bumps when the girls leant over, say at a picnic or a carwash.
– A nicely tailored pair of trousers that reveal about 2-3" of ankle, with the appropriate shoes does have appeal, and it is practical in some circumstances. Socks and runners are OK with jeans for casual wear, but I always used to wear tights under trousers. Now, stockings have replaced the tights, they are just as comfortable and practical. I would wear trousers a couple of times during the week, and casual ones on the weekend, and always with stockings.
Even the sight or glimpse of hosiery worn with jeans and pumps is a turn-on for me, but it must be sheer! Definitely a bare ankle or cladded in socks is a no-no!